Deca's Source Material is out now
Our latest release is the second volume in our KPM Crate Diggers series, part of our exclusive partnership with KPM/EMI, in which artists are let loose for a dig into the archives of the legendary KPM sound library.
Deca is at the helm this time around… listen and purchase over on Bandcamp.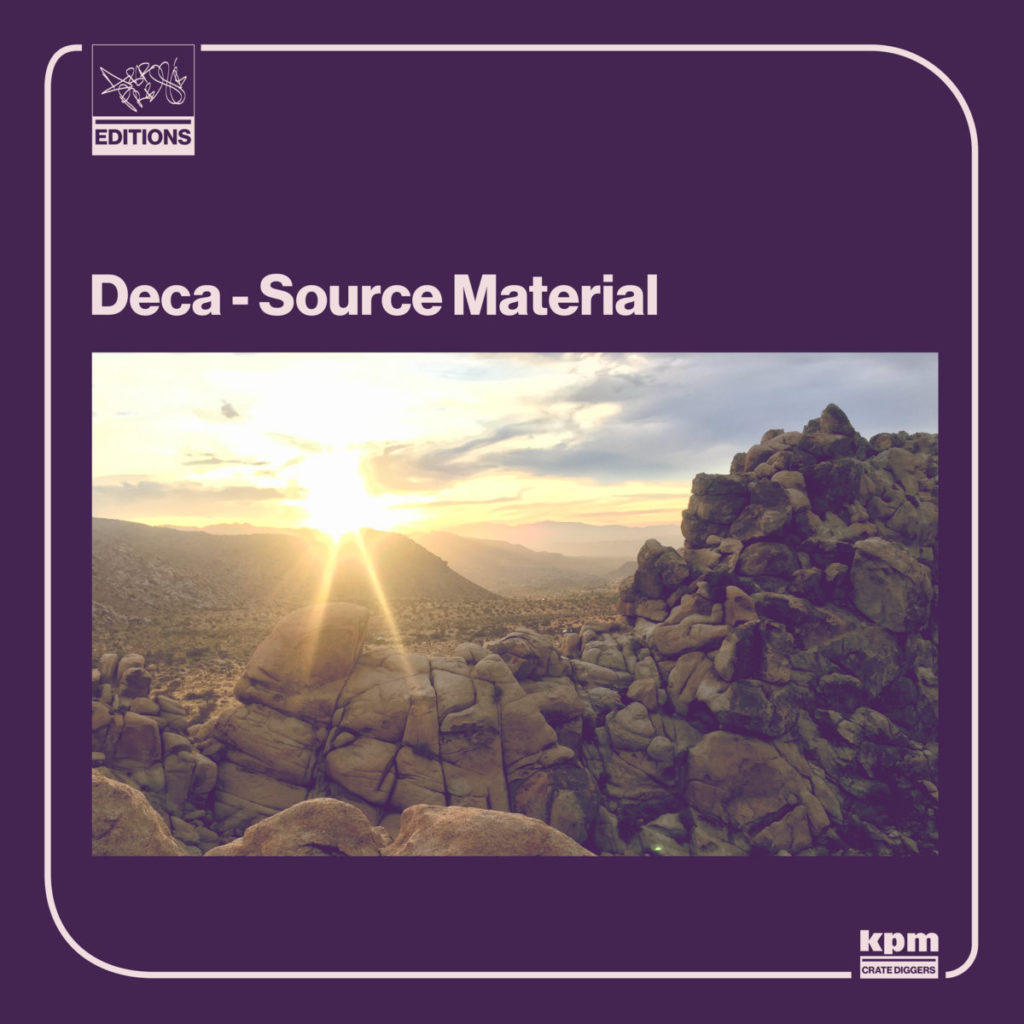 Working out of New York and previously a vital cog of Denver's early 2000s hip hop machinery, Deca is a gestalt rapper, producer and visual artist with a dedicated global following. Since his debut album 'The Veil' in 2011, Deca's released six more long players including the acclaimed 'The Ocean' in 2013, which brought him to wider attention.
Open-minded to matters of the world and always ready to channel new ideas via his MPC, Deca is the ideal artist to pick up the baton from beat scientist Damu The Fudgemunk for the next release on Def Pressé Editions, dedicated to exploring samples from the legendary KPM library music catalogue. The album Source Material, comprising eight new works rich in the emotive soundscapes he's best known for, will see release in late 2021.
Damu The Fudgmunk's 'Conversation Peace', the first Crate Diggers release, focused on sounds from the now-iconic 'green sleeve' KPM 1000 series. Deca pulls out volumes from the same hallowed racks but expands his reach even further by delving into the KPM Themes International series, founded by the legendary Alan Parker with other renowned composers of the day to get back in touch with popular music of the time, and the Conroy Recorded Music Library.
"As a huge fan of the library genre, it's a true honor to be included in this series," explains Deca. "The first production library records I ever picked up were KPM, so to be given free reign to sample anything in the archive along with music from Theme and Conroy was an incredible experience."
'Source Material' shines a light on various musicians and composers with its sample choices, such as the aforementioned Alan Parker, plus Jim Lawless, Tony Kinsey, Alan Hawkshaw and Duncan Lamont. Over eight tracks Deca creates the sort of dreamy soundscape he's trademarked, relaying a story in moods over the course of the album – the playfulness of 'Sleepwalker' opens proceedings and 'Summer Song' does what it says on the tin working around a classic-era vocal hook, before the remaining tracks dive into the introspective haziness Deca loves to create: instrumental hip hop at its finest, sourced from the fountain of eternal funk.
Deca expands: "It was definitely a challenge going through such a huge archive and narrowing down what I wanted to use. I ended up listening to damn near everything in the archive.
"It was important to me to do justice to such legendary labels that some of my all time favorites had pulled from; Madlib, Dilla, De La Soul, Doom, Ghost and Raekwon, the list goes on. I tried to flip some of the lesser known things that, to my knowledge, hadn't been used by other producers, and I also sampled a lot from the KPM and Conroy records I own that I had never gotten around to using."
There's more to come from Def Pressé Editions-KPM Crate Diggers – Stro Elliot (of The Roots), J-Live, Chris Dave to name just a few – and its sister label Def Pressé Editions-KPM Originals, which will see new albums composed of entirely new, sample-free compositions. Artists confirmed to participate in the Def Pressé Editions-KPM Originals series include Bastien Keb, Corey King, and Chris Dave, with more to be announced in the coming months.